Quality Assurance


Our stringent quality policy is the core of our business operations. We are an ISO 9001:2000 certified company and manufacture of Metallographic Testing Equipment and Metallographic Testing Machines that are in sync with the national and international quality standards. The raw materials used in our facility are procured from some of the most reliable vendors in the market. All the processes in the facility are strictly supervised by our team of well qualified and richly experienced managers and quality analysts. Various quality checking processes such as proving rings, dynamo-meter, load cell, slip gauge, dead weight, etc are undertaken to ensure optimum quality. Thus we assure total value to our customers for their money.

Infrastructure
We have set up a world class infrastructure for bulk and efficient production of our product range such as Digital Thickness Gauge,Micron Gauge,Caliper Gauge etc. Our state-of-the-art manufacturing facility is well equipped with latest technology machines such as lathe machine, drilling machine, milling machine, etc. These machines and various tools employed in the production processes are operated and maintained by our skilled workers who are adequately provided with regular training. Raw materials like steel, motor, gear box and various other metals are utilized to gain cost benefits, which enables us to offer our products at very reasonable prices.

Research and Development

Our proficient team of research professionals has contributed immensely in the success of our brand and company. They are constantly engaged in experiments and studies related to the technology, prevailing and upcoming trends in the market, industry structure and customers' changing demands. Their studies and analysis lead us to significant information which is applied in the decision making process. So far, we have successfully leveraged the various information and opportunities indicated by our R&D team and continue to do so in order to stay ahead of our competitors.

Clientele
Over the span of last thirteen years, we have easily acquired a wide base of domestic as well as overseas customers. Our Machines and Equipment are supplied to various institutions like RAILWAYS, RITES, ICF, DEFENCE, HVF, BARC, R&D and EDUCATIONAL INSTITUTES, KORES, ALSTOM, CATERPILLER, SAIL, BSP, BHEL & Various Industries. Many of our customers are regular users of our products and completely trust us for our product quality. Some of our prestigious clients are listed below:
Ratnamani Metals & Tubes Ltd
ALSTOM Projects India Ltd
Kores India Limited
Associated Transrail Structures Ltd
XL Engineers
Innovative Tyres & Tubes Ltd
Delta Trans Conductors Pvt. Ltd
Betul Tyre & Tube Industries Ltd
Asian Airsole P Ltd
Akash Industries
Khatri Casting Pvt. Ltd
Kalavar Exports
Santram Enterprises
Ashok Leyland Ltd
CG-PPI Adhesive Products Ltd
Shreeji Doors & Plywood Industries
Amiraj Technologies Pvt. Ltd
Paras Agro Plast Pvt Ltd
Rapid Manufacturing Company
Goodtech Industries
RITES Limited
Akhil Wires Pvt. Ltd
Universal Sales Corporation
Teknika Engineering Co. (P) Ltd
Anjana Machinery Manufacturing Pvt. Ltd
Kapoor Automobiles India
Maharshtra Wire Industries
Sunita Impex Pvt. Ltd
Hi Tech India Equipments P. Ltd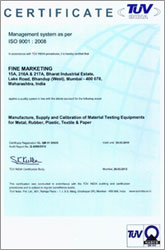 ISO 9001:2008
Get in touch with us